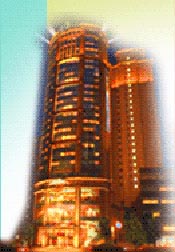 To be known across Hong Kong borders as the most trendy, urban chic hotel and restaurants in town.

Situated in Tsimshatsui, The soon-to-be-opened Empire Hotel Kowloon is only five-minute walk from MTR & KCR station and the prime TST commercial & shopping district. It is also only drive from the Airport Express Kowloon Station.

Enjoy the ten-foot high ceiling and most up-to-date hotel room facilities such as: interactive TV, broadband Internet access, virtual online shops, online hotel delivery & booking, video conference call and video on demand. Relax and exercise in our year-round indoor swimming pool, sauna bath facilities and fitness center. Get the trendiest and most exquisite dining and wining experience from our club style funky bar "Aristocrats", western open-kitchen restaurant "Eastside", or try our Indian & Cantonese "Ziren". Underground parking is also available for your convenience.