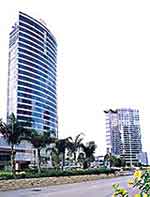 The Ultimate Fun Retreat at Harbour Plaza Resort City
Set in the undiscovered territory of bustling Hong Kong, lies a resort city that promises Great Stay, Great Food, Great Fun and Great Value for those who demand nothing less than an exciting experience.

Harbour Plaza Resort City, Hong Kongís first resort hotel at the heart of Tin Shui Wai - a fast growing district in the north-west of New Territories, comprises of two towers which features a total of 1,102 contemporarily decorated rooms and studio suites, 4 interestingly different themed bars and restaurants, and an abundance of recreational facilities. And thatís not all. A 600,000-sq. feet shopping complex with 8 cinemas and over a hundred shops, is sure to appease even the most determined shoppers.