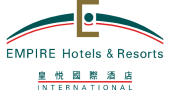 Food & Beverage
33 On Hennessy

Colourful Continental Cooing Blended with Pacific Rim Flavours throughout the day as well as daily breakfast, lunch, dinner buffets and A La Carte Dining.
The Southern Song Chinese Restaurant

Specialises in traditional Cantonese cuisine. An elegant atmosphere is created by a clever blend of classic and contemporary Chinese interior design and traditional table settings in Chinese porcelain. The surroundings combined with the delicacy of good Cantonese food more than sets the scene for
a memorable meal.
The Empire Brew Pub
An Irish style decorated bar. The ideal place to unwind after a day around town, our resident pianist and singer will enrich your enjoyment over there. Special luncheon is also available in weekdays.
The Lobby Lounge

Is another wonderful spot to linger over afternoon tea or an evening drink. In summertime guests have the additional option of heading up to the rooftop bar where they can relax over drinks by The swimming pool.

Room Accommodation

Facilities

Food & Beverage

Meeting

Location Map

Hotel